Shop Hours
Saturday & Sunday
10AM 'til 2:30PM
Sometimes we are here as early as 8AM
Sometimes not…
Sometimes we are here as late as 6PM
But not usually




#3 - in the Music Shed at the White Horse Flea Market
2710 White Horse Road.
Greenville, SC
(Plans in the works to move to the 'mini-mall' with more days and expanded hours open!)

click on map for larger view



Greetings One and All!

Our 'Brick-n-Mortar' store is growing every week! Because we don't have room for all the wonderful items that we have found, in the store, we have been working to build a cyberstore. Far from complete...not even ready to operate yet, but if you want to take a peek...click HERE

Our Herbs




Your local source for...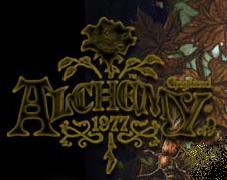 Alchemy Gothic * Spirit by Alchemy* Dragons of the Runering



Journals * Tarot Cards * Greeting Cards * Music



800+ statues, images of Goddesses and Gods, jewelry, books, & music



The works of Oberon Zell-Ravenheart


Monday through Friday, please call
277-9972
On Saturday's & Sunday's, during store hours, please call
417-3107

Email


We share a egroup with our siter store - The Owl & The Raven.
We invite you to join it to keep updated on events and, of course, new arrivals in the store.
Simply fill in your email address and click join!



Visitors since August 22, 2007